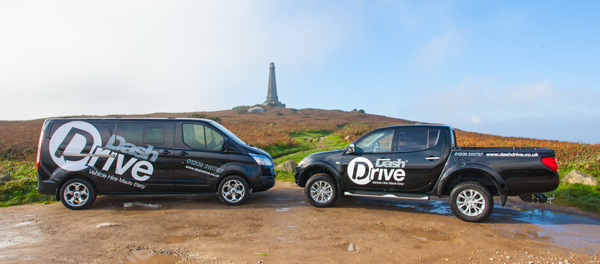 Television & Film Vehicle Hire & Logistics
Dash Logistic Services Ltd is based in Cornwall and offers logistic and transport solutions to the film and television industry. We provide a full range of services including vehicle hire, man and vehicle transportation, courier services and storage.
We understand that in the television and film industry it is vital to get things right the first time, so we put a huge emphasis on our customer service to ensure that your expectations are met. Whether your requirements are for the full production or as a back-up when working in Cornwall, Dash can work with you to meet your requirements, however demanding.
Transportation
Self-Drive Vehicle Hire – we offer modern vehicles no more than 2 years old.  Our fleet of over 220 vehicles includes:
Full range of cars, exec cars or SUVs
17-seat and 9-seat minibuses
7-seat people carriers
Luton vans (with tail lift) for all high volume low weight loads.
Small, medium and long wheel based vans all equipped with floor anchoring points,
4 wheel drive pick-up trucks,
5 and 6 seat crew cabs
Cars – we also have a complete range of cars from high spec exec cars, SUV's, People Carriers, and Large Estates down to small super-minis, all under 18 months old and highly maintained for your peace of mind. All vehicles can be delivered directly to the location when needed, often at very short notice.
Man and Vehicle Transportation Service
Available for transporting equipment, scenery, props, costumes around the country. Our crews are experienced in film & television production and time-sensitive logistics so you can rest assured that they will be where they need to be at the right time. We can also transport overnight rushes.
Storage
We offer a variety of storage options. Our self storage units range from 10 to 600 sqft with industry-leading security and access control enabling 24/7 access if required. We can also store pallets and other bulky items such as props, scenery and equipment.
Minibuses with Drivers
We can provide both executive and standard 9-seat and 17-seat minibuses with drivers, either for a complete production or as a standby option e.g., for an increased requirement, reconnaissance, short-term stop-gap or to cover a breakdown.
Please contact Pete Theisinger for more information on 01209 310767.
Credits include:
Miss Peregrine's Home for Peculiar Children – Fox
The Kid who would be King – Fox
Poldark – Mammoth Productions – series 1,2 & 3
Doc Martin – Buffalo Productions – series 6,7, 8, 9 & 10
Delicious – Bandit Drama series 1, 2 & 3
Rosamunde Pilcher series x 8 – FFP New Media/ZDF
The Secret Garden – Lennox/Heyday Films
Agatha Raisin – Company Productions
Fisherman's Friends & Fisherman's Friends – Fred Films
The Trouble with Maggie Cole – Genial Productions
Malory Towers – Queen Bert Productions, series 1, 2, 3 & 4
The Last Bus – Wildseed Studios
Showtrial – World Productions
Manhunt – Mammoth Productions
The Night Stalker – Mammoth Productions
Sanditon 1 & 2 – Red Planet
Beyond Paradise 1 & 2 – Red Planet
The Salt Path – No 9 Films