Dash Celebrate Promotion with 50th Vehicle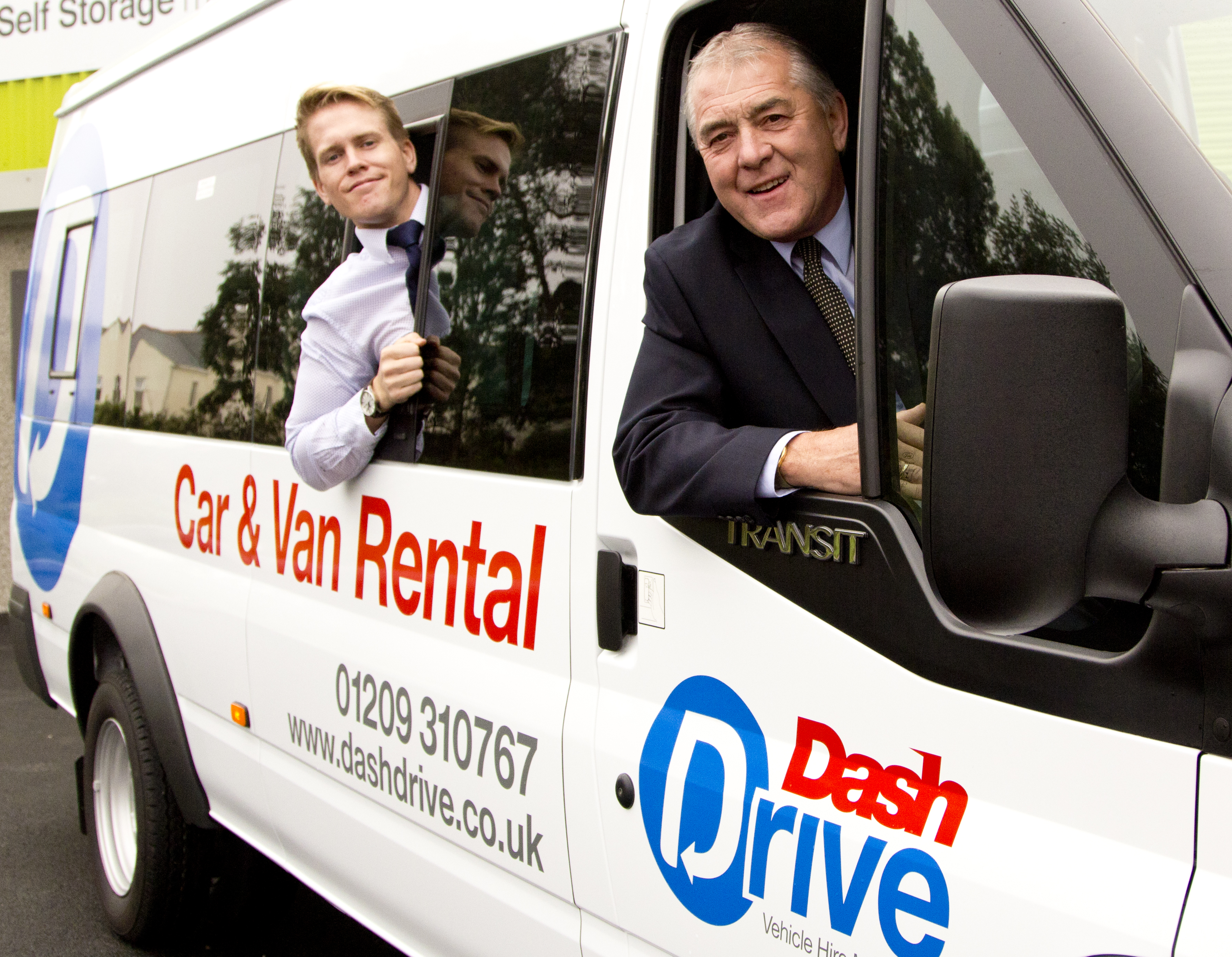 The Dash Group, based in Redruth, has announced promotion from within, with the appointment of a new Sales Manager – Pete Theisinger for Dash Drive.
Pete celebrates his success by welcoming the 50th member to the Dash Drive vehicle fleet – a brand new 17 seater mini bus, which is already proving to be extremely popular.
Pete, who comes from Lanner, has over 20 years of experience within the vehicle hire sector, working for national companies such as Enterprise, so brings a wealth of knowledge to his new role.
Pete will not only focus on creating sales opportunities for Dash Drive's extensive rental fleet, but will also create awareness and build relations for Dash Self Store's range of storage solutions, as well as the group's distribution operations for Dash Express.
Pete is delighted with his promotion saying:
"I am thrilled with my new role of Sales Manager for Dash Drive . It is great to work for a company that is passionate about developing staff by providing opportunities to progress within the business."
Pete continued, "I am looking forward to starting a new chapter within Dash Drive and feel that the new Sales Manager role will help to open more doors of opportunity throughout Cornwall, not only for Dash Drive but also for Dash Self Store and Dash Express. I am delighted to now be working across these and the other great services delivered by Dash."
Paul Dash, Director of The Dash Group, is impressed with Pete's understanding of the market saying:
"We are pleased to be able to offer this new role to Pete. We pride ourselves on recognising talent within our team and knew that Pete would be perfect for this role. He is a fantastic salesperson who will do great things for Dash."
Pete has already demonstrated his initiative and understanding of the business by suggesting that Dash Drive's 50th vehicle to join the fleet should be a mini bus.
Paul continued, "Pete's suggestion for our 50th vehicle to be a mini bus was genius.  It has helped widen the variety even further within our fleet and we have already seen a great deal of interest which we are extremely impressed with."
The mini bus has now joined the already extensive fleet which includes cars, vans, refrigerated vans and trucks, and is proving to be a huge success – hired on its first day on the forecourt and now with bookings for work outings, school trips and sports clubs throughout Cornwall.
The Dash Group, based in Redruth, specialises in self storage, vehicle hire and distribution with business and private customers locally and nationally.
For more information about any of the great services delivered by Dash please visit www.thedashgroup.co.uk